Google's business cloud for any size company
We combine
world-class Google expertise

with years of experience to guarantee you the best possible customer experience
Google Workspace (formerly G Suite) offers you all the tools you need for your everyday work. Gmail, Docs, Drive, Meet, Google Calendar and other cloud-based applications guarantee secure, productive and location-independent work.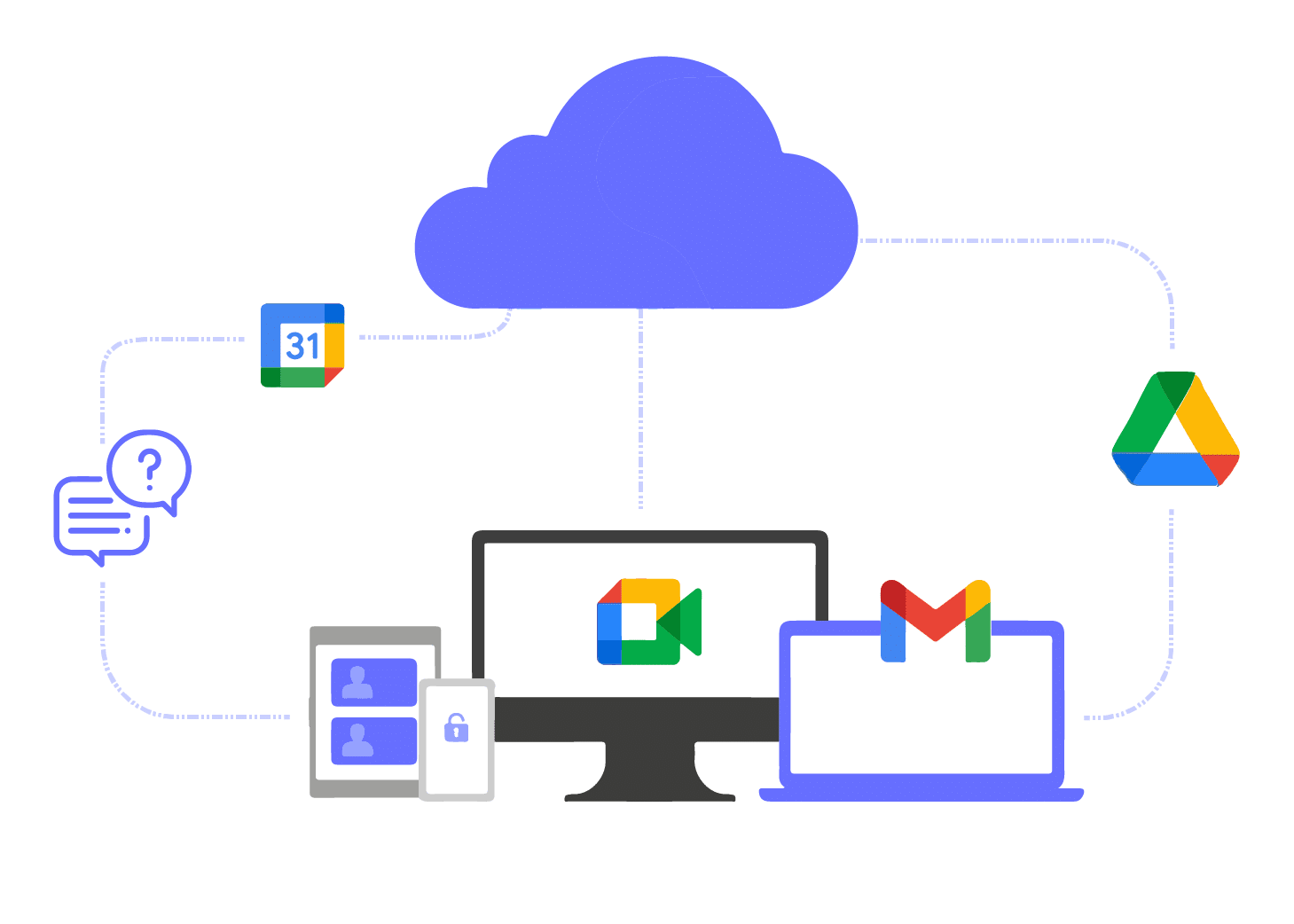 Google Workspace:
The complete package for companies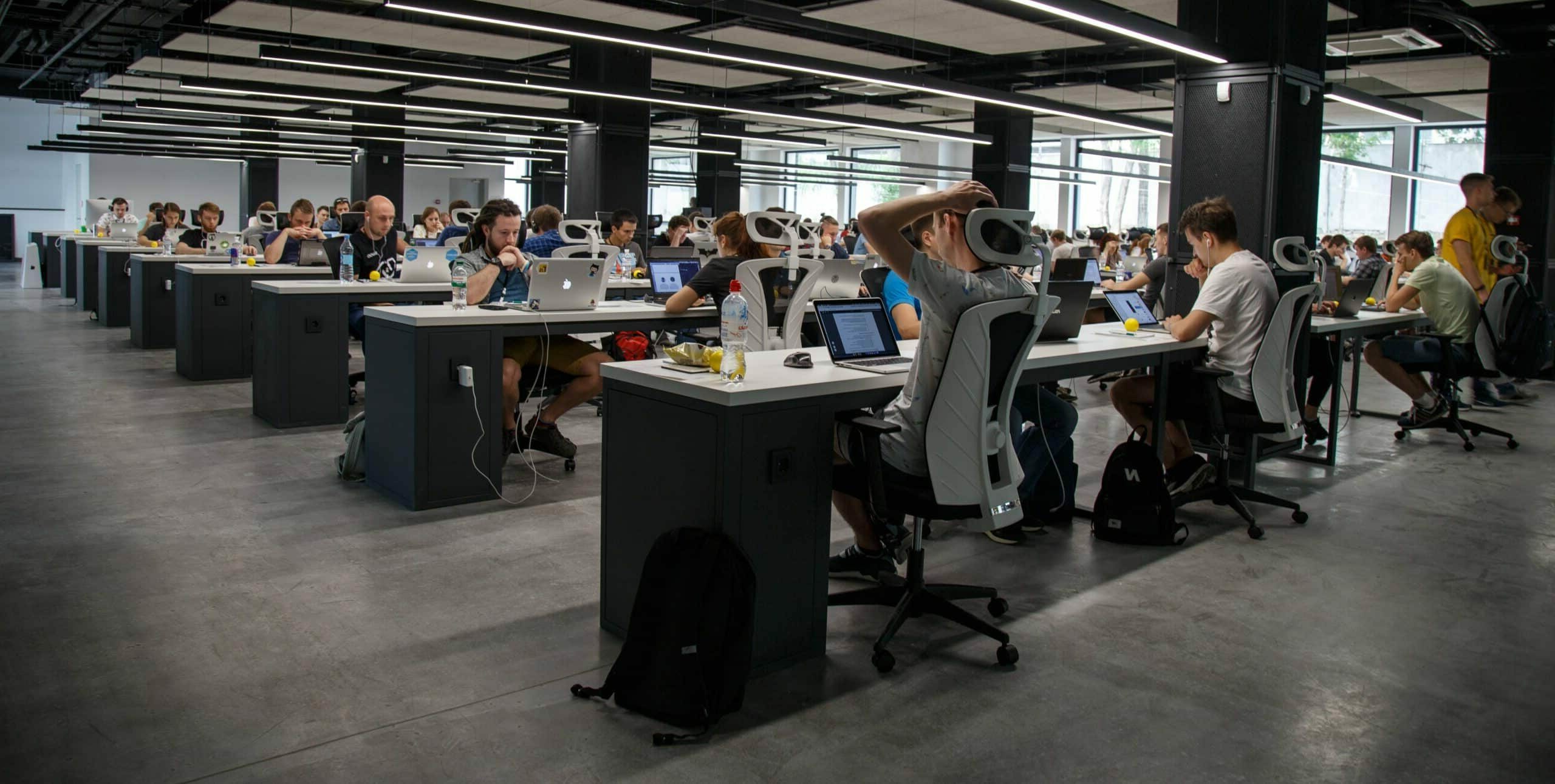 Communication, collaboration, storage
and management for your business
Google Workspace is a cloud-based platform that is easily accessible from any browser and allows access across all devices. With 128-bit data encryption through AES (Advanced Encryption Standard), the platform is highly secure, which is further supported by 99.9% availability. In addition, centralized management significantly reduces the amount of administration required. In addition to the standard tools from Google, which are particularly recommended due to their intuitive usability, more than 400 additional apps, tools and add-ons are available in the Google Workspace Marketplace.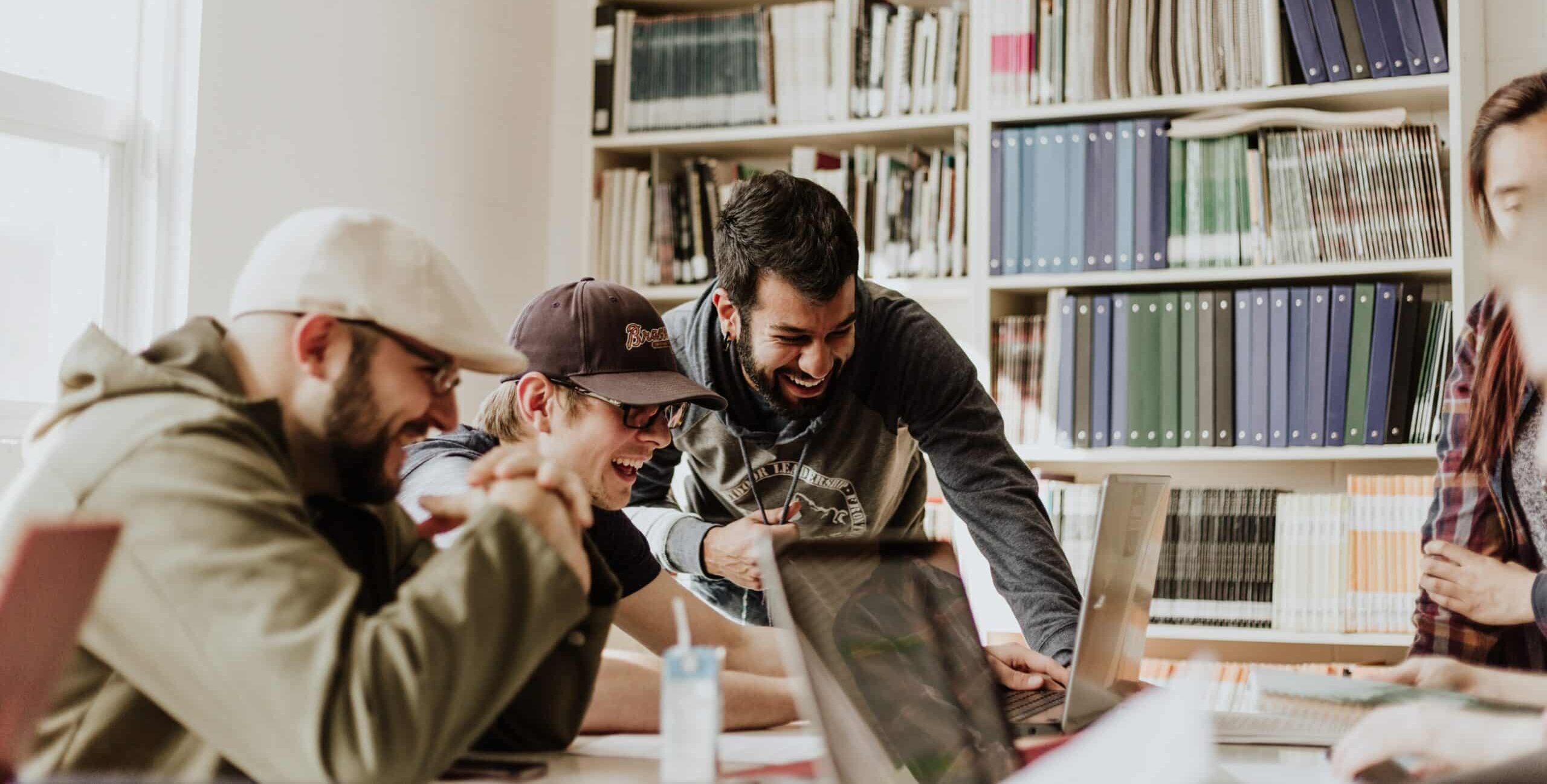 No matter whether start-up, SME or corporate group:
Google Workspace is suitable for any size of business. The all-in-one tool is a cost-effective and powerful solution and offers a wide range of communication and organizational tools.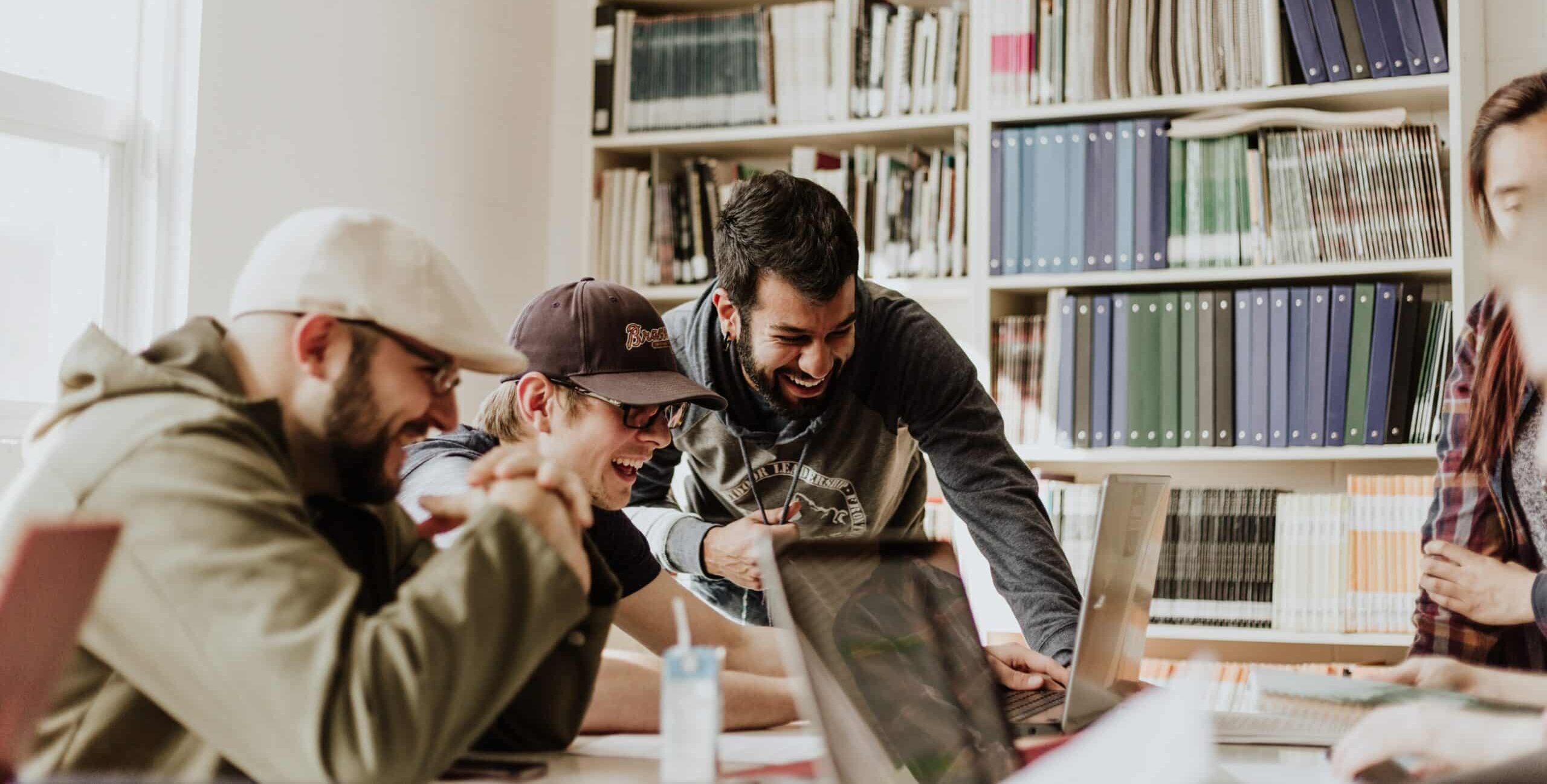 Why Google Workspace with jemix?
Customization
As an external IT service provider, we tailor Google Workspace to your company's exact needs and requirements when setting it up.
IT-Security
We ensure that the Google Workspace solution is set up securely and provide maximum protection for their corporate data.
Cost saving
By implementing more efficient IT systems, our customers can save money by using our service to reduce the number of staff they would otherwise need and minimize IT downtime.
In just 5 steps
to a business cloud company
Request
Send us a non-binding inquiry or make a direct telephone appointment with one of our employees.
Strategy consulting
Based on our conversation, we will send you a detailed quote.
Offer
In the strategy meeting you can tell us all your wishes and expectations so that we can develop a suitable IT concept for you.
Project start
As soon as all details have been clarified, we start implementing your new IT infrastructure.
Ongoing consulting
We take care that your IT runs smoothly on a permanent basis. For questions, we provide you with a permanent contact person.
What is Google Workspace?
Google Workspace is a cloud-based productivity and collaboration platform developed by Google. Formerly known as G Suite, Google Workspace offers a variety of applications, including Gmail, Google Drive, Google Docs, Google Sheets, Google Slides, Google Meet, and Google Calendar.
The platform allows users to easily access, share, edit and store documents and other resources.
Is Google Workspace GDPR compliant?
Yes, Google Workspace complies with the requirements of the General Data Protection Regulation (GDPR). Google is committed to complying with the GDPR and has implemented appropriate data protection measures to protect users' privacy and rights.
For example, Google Workspace offers numerous security and privacy features such as strong 128-bit data encryption, multi-factor authentication, and management options to control access to data.
Google has also provided a GDPR data processing agreement that sets out the legal framework for processing personal data within Google Workspace.
As an enterprise, should I use Google Workspace or M365?
The decision between Google Workspace and Microsoft 365 depends on your organization's specific needs and requirements.
Both platforms offer similar productivity and collaboration features such as email, calendaring, file storage and sharing, online office suites, and video conferencing tools.
If your business already relies on the Microsoft platform, for example, because of its use of Windows operating systems and Microsoft Office, Microsoft 365 might be a better choice.
Microsoft 365 is tightly integrated with the Microsoft ecosystem and offers advanced features for managing Windows computers and other Microsoft products.
Google Workspace, on the other hand, is a cloud-based platform that can be accessed on any platform and device and typically has a simpler and more intuitive user interface. It is also known for its collaboration tools and its ability to bring teams together in real time to edit and discuss documents.
Is Google Workspace secure?
Yes, Google Workspace is secure. Google has implemented a variety of security measures and privacy policies to ensure that users' data is protected.
These include strong encryption, multi-factor authentication, data access control, permanent monitoring and many more.
How do the different Google Workplace plans differ?
Google Workspace offers different plans with different features and prices to meet the needs of different users.
Here are the main differences between the different plans:
Google Workspace Business Starter: This plan is aimed at small businesses or teams that are just starting to collaborate in the cloud. The plan includes email, calendar, video conferencing, 30GB of storage, and access to Google products like Docs, Sheets, and Slides. The price is €5.75 per user per month.
Google Workspace Business Standard: This plan offers everything included in the Business Starter plan, plus advanced features such as unlimited storage, cloud search capabilities, enhanced security features, and the ability to hold meetings with up to 150 participants. The price is €11.5 per user per month.
Google Workspace Business Plus: This plan is suitable for larger companies that need advanced security and management features. The plan includes everything included in the other plans, plus additional security features such as security and compliance centers and advanced management features such as data loss prevention. The price is €17.25 per user per month.
Google Workspace Enterprise: This tariff is suitable for large companies that require extensive management functions and advanced security features. The plan includes everything included in the Business Plus plan, plus features like unlimited archiving and eDiscovery and access to Google Meet Advanced. Pricing varies based on the specific needs of the organization.
There are also special rates for educational institutions and nonprofit organizations. Rates also vary in terms of support and availability of certain features, depending on the user's needs.
How much does Google Workspace cost for businesses?
A Google account in itself is free. However, if you want to use Google Workspace (formerly G Suite) for your business, there are different tariffs with different features and prices. The price depends on the number of users, the chosen tariff and the location of the company. The cheapest plan, Google Workspace Business Starter, costs $6 per user per month. The most expensive plan, Google Workspace Enterprise, is customized and the price varies depending on the company's specific needs. For more information on the different plans, visit the Google Workspace website.