8 reasons for Apple
in your business
reading time: 5min | author: Judith Böttger
You might also be interested
Many businesses already work with Apple devices and are sold on their reliability. Let us give you eight reasons for why you should choose Apple for your business.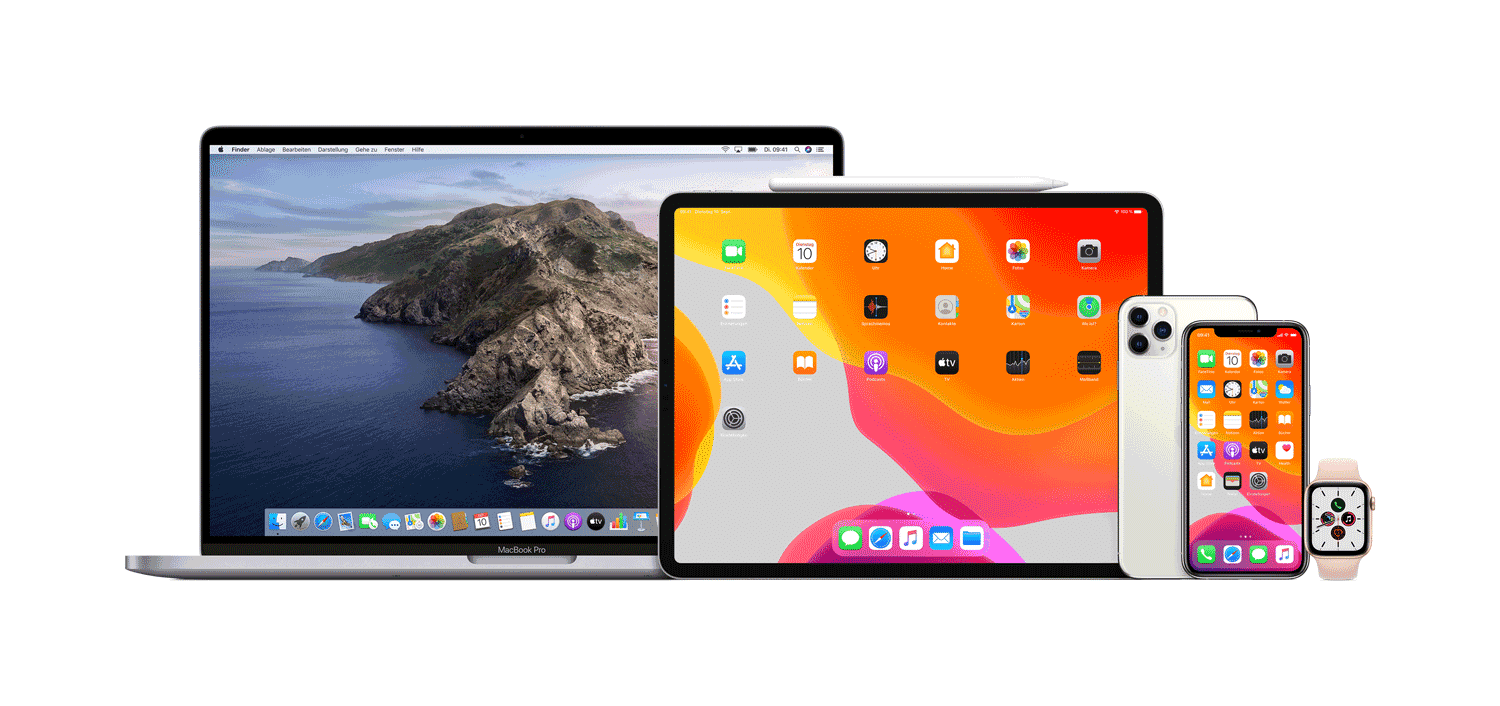 1 Apple is user-friendly
Apple never fails to impress with its user-friendly software and hardware.
Even employees that are not particularly tech-savvy can learn it themselves- it is that intuitive. This leads to less dependency on IT support and lower costs when compared to Windows. User-friendliness is therefore not only saving time, but costs. On top of that, your employees will love the no fuss user experience of Apple devices.
2 Apple is secure
Apple devices are significantly less susceptible to viruses, since most internet users use Windows. Even if more Apple specific viruses are developed in the future, the numbers will not come close to the risks of using Windows. Additionally, the new M1 processors will also increase protection. However, Apple's security is not based on virus protection alone; the overall security system is high quality in general. The encryption system FileVault 2, which is integrated into MacOS, has not been hacked (if you need a different word, let me know) to this day. The main carriers for viruses are executable e-mail attachments. But with Apple, these require the user's consent before activation. These comprehensive security measures ensure excellent protection of corporate data and that all systems run smoothly and reliably.
3 Manageability of Macs in companys
With the triumph of the iPhone as a corporate device, Apple has put a lot of effort into making centralized mobile device management possible for businesses. This became reality in form of the so-called "mobile device management" (MDM) systems. Through Apple's integration of the same framework into macOS in recent years, a central control for almost every Mac setting is possible with corresponding management systems like Jamf. Managing your enterprise devices is no longer a challenge.
4 Cloud integration
More and more companies are working with browser-based cloud applications from Microsoft and Google. These browsers are also available for Mac and run even more reliably than on Windows, which makes Apple the ideal platform. This is largely due to the fact that Apple cut off its server-spate about 10 years ago, knowing that more and more companies would be working with cloud products in the future. Apple's vision was to integrate major cloud systems properly in macOS. That is why the collaborative business clouds from Google and Microsoft can now be connected easily and e-mails, contacts and calendars can be integrated into the board tools that macOS includes. Apple was ahead of the curve anticipating this change 10 years ago and it shows. They enable companies and their employees to have the best possible user experience.
5 Productivity with macOS
There is already a wide range of productivity software that use Apple's concept to maximize results. For example, Adobe's product range is based on the Apple system and is second to none when it comes to audio and graphic design as well as film production. Microsoft's Office package is also compatible with Apple, enabling smooth and efficient integration. Software for accounting and banking is increasingly available for MacOS as well. In case you use an application that is currently only compatible with Windows, virtualization software such as Parallels integrates seamlessly into the Mac desktop. If your applications are based on a terminal server, you will benefit with Apple from the fact that Microsoft or even Citrix have made their remote desktop clients available for Apple as well.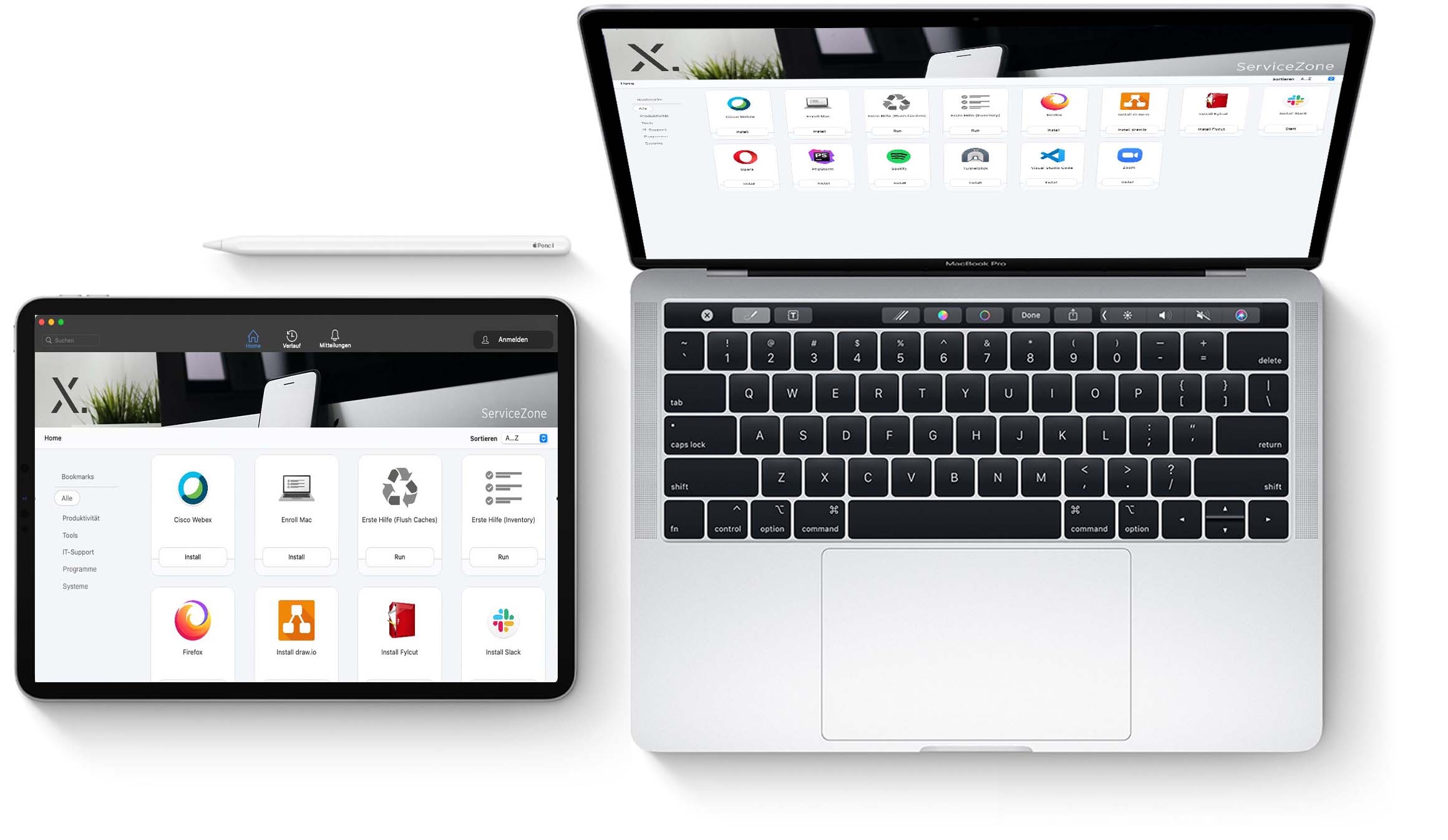 6 Apple is cheaper in the long run
Contrary to common belief, Apple devices are actually cheaper than conventional Windows computers in the long run. High purchase prices in comparison are partially put into perspective by the new M1 processors, but more importantly, the operating costs of Apple devices are significantly lower than those of other manufacturers over time. In addition, iMacs, Macbooks and Co. run more smoothly and error-free. By avoiding unnecessary IT support, you will not only reduce expenses, but also time and most importantly, nerves.
7 Backup with Apple
Every Mac has excellent memory in the form of the backup software, Time Machine.
This program automatically creates backups of all data and settings, which helps Apple to protect its users from human error.
If data is accidentally deleted or the system is restricted, everything can be restored easily at the touch of a button. As the name promises, automatic backups ensure you can recover your data– it's that simple. In case your company requires centralized backup management, there are many third-party systems on the market, such as Crash Plan Pro, that also offer this feature.
8 Apple looks good
It's no wonder that designers, ad agencies, publishers, and other businesses where cutting edge and attractive presentation matter have always relied on Apple. One thing is certain: Apple has delivered greatness in the design department for many years now. Their devices give off a high-quality impression that radiate seriousness and professionalism. Your devices will work well and look good doing it.